Call on us if you'd like to enjoy your porch for more than one season each year.
How many seasons do you comfortably enjoy the porch at your Willow Spring, North Carolina home? If you answered less than 3 seasons, you might want to consider the 3-season porch windows we offer here at Screen Medics. That is actually a bit of an understatement, as our customers report they enjoy their porches nearly year-round. If you would like to go from perhaps 100 days of use each year to more than 300 days, tripling your outdoor enjoyment, call on us to learn more.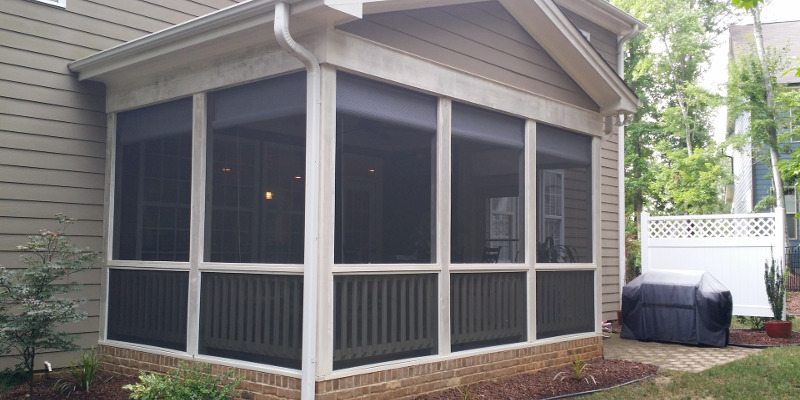 Our mobile team comes to your home to measure the windows you have. We take those measurements, so we can later bring you custom-sized 3-season porch windows that fit the existing openings without expensive re-framing. The result is windows you can open to let the breeze in or shut for protection from rain, wind, dust, and snow. When closed, your windows will also provide increased security, safety, and a reduction in energy costs making them a wise investment.
Your new 3-season porch windows are easy to clean, so you can spend time enjoying your porch instead of maintaining it. The product is quite durable, featuring a 10-mil vinyl glazing that can return to its original shape after being accidentally distorted. We are happy to discuss the benefits and features of these season-extending windows and answer all your questions. Just call us to schedule an in-home consultation and you'll be on the road to a porch that you'll love to spend time on. We are confident you'll love our workmanship and professionalism.
---
At Screen Medics, we offer 3-season porch windows to residents of Raleigh, Cary, Apex, Holly Springs, Fuquay-Varina, Willow Spring, Pittsboro, Chapel Hill, Youngsville, Sanford, Clayton, Garner, Morrisville, Durham, Hillsborough, Carrboro, Wake Forest, Knightdale, Rolesville, Wendell, Zebulon, Creedmoor, Franklinton, Lillington, Coats, Smithfield, and Wilson's Mills, North Carolina.